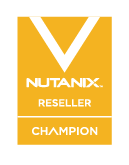 Nutanix Xi Frame Promo

Double Down on DaaS with One to One Match

Double Down on DaaS with One to One Match
Buy one get one free when you run Frame on Nutanix Enterprise Cloud! Now through July 31, Nutanix will match every seat of Frame deployed on AOS/AHV.
Requirements:
Requires a minimum subscription of 100 seats and a 1 year contract period.
Discount applies for up to 3 years of initial contract agreement - first year of service, plus years 2 & 3 on renewal.
AOS sizing to be validated by Nutanix or authorized partner.
Promotion expires on July 31, 2019.
Overview:
Xi Frame is a Desktop-as-a-service (DaaS) by Nutanix. You can use it to provision Windows or Linux desktops on prem (on Nutanix AHV) or on any major public cloud (like Azure, AWS, or GCP). It is the only FedRAMP Ready certified desktop service. Configuring Xi Frame takes minutes and requires no prior VDI experience.
Simplified app and desktop delivery
Built from ground up for the multi-cloud world, Frame combines elegant simplicity with dozens of one-click enterprise integrations for rapid implementation and adoption.
Easy to use: Provisioning apps and desktops with Xi Frame is fast and easy. You can go from zero to full production in less than 30 minutes.
Secure and encrypted: Keep your organization's apps and data secure and off your end-users devices with the only FedRAMP Ready Desktop-as-a-Service.
Fully managed: Frame delivers innovation and updates all the time, and it does the heavy lifting so you can focus on your users and business.
Simplify Digital Workspaces as a Service
The digital workspace is spearheaded by technology and innovation that enables end-users to access services, tools, and applications from any connected device regardless of their location. Not all digital workspaces are created equal. With greater access, comes greater responsibility. There are six criteria used to measure the success of delivering a digital workspace: simplicity, scalability, speed, security, savings, and performance. These factors encompass the three blockers of digital workspace integration and delivery success – cost, complexity, and cloud choices. And these factors have to be tempered with the rigor and discipline required in delivering good on the CIO's SLA. Nutanix has extensive experience in end-user computing (EUC) and virtual desktop infrastructure (VDI) with 2,500+ VDI customers globally. We are leveraging our VDI and EUC experience to provide a simple yet powerful platform that scales to your digital workspace needs now and into the future. Nutanix Frame is a public cloud service that empowers any organization to deliver their digital workspace as a service through a fully managed platform.
KEY BENEFITS
Create your digital workspace faster and deliver your end-user's applications and desktop virtualization as a service with more ease and reliability using Nutanix Frame.
Connect from any web browser
Bring and run your apps
Choose your Infrastructure-as-a-Service provider
Use your preferred IAM, GPU, and cloud storage services
Deliver high performance and cloud scalability to end-users anywhere on any device
CUSTOMERS
DIGITAL WORKSPACE WITH SEAMLESS INTEGRATION AND DELIVERY
Nutanix Frame provides do-it-yourself simplicity with automated, fully managed cloud service solution that simplifies the continuous integration and continuous delivery of the digital workspace. Frame delivers Windows or Linux apps and desktops to their end-users via web browsers like Chrome, Safari, Firefox, Edge, and Internet Explorer. Frame provides a faster time to value and removes the barriers to deliver and consume virtual desktops and virtual apps.
SECURE, LEAN, AND AGILE BY DESIGN
The CIO's SLA is the CIO's service level agreement to business leaders, business stakeholders, and end-users. For IT organizations, the CIO's SLA means security, lean, and agility.
Security is protecting the company's assets. With Frame, users can securely access applications with any device, managed and un-managed, in any location by just using a browser. Better security extends to the non-persistent VM state and sessions and the ability to prevent users from downloading data onto the endpoints. This minimizes the risk of intellectual property theft. Moreover, Frame is FedRAMP Ready for AWS GovCloud and Azure Government.
Lean is maintaining cost efficiency while making it easy to focus on end-user's application and services. This means that the knowledge to design, build, and maintain the application and desktop platform isn't needed. Next, there is no up-front capital investment required as organizations can pay as they grow.
Agility is empowering the freedom of choice to pivot to the solution that provides the fastest time to value while never being locked in. Frame partners closely with major cloud service providers like Microsoft Azure, Amazon Web Services, and Google Cloud Platform to deliver the best user experience locally. Frame seamlessly integrates with best of breed vendors like AD/ADFS, Okta, and Ping Identity for IAM; NVIDIA for GPU; and OneDrive, Google Drive, Dropbox, and Box for cloud storage and collaboration. Finally, Frame is elastic with the ability to scale up and down capacity with one click and automatically power up and power down desktops and apps to accommodate variations in usage.
Effortlessly Deliver Virtual Desktops
Run your applications on powerful servers in the cloud. Xi Frame delivers the application interface to your browser as an optimized H.264 video stream. Mouse and keyboard actions are sent back to the cloud in real time, and the user interface updates so quickly it feels like the app is running locally—even when you're thousands of miles from our servers.

Any App
Integrate with dozens of apps and services. Access your existing files and connect to identity services that you already know and use.

Any Device
Install nothing—no plugins, no Flash, no Java, no ActiveX. Just pure HTML5 goodness. Even Chromebooks and ChromeOS are fully supported.

Any Browser
Run Xi Frame in all five major browsers: Google Chrome, Firefox, Safari, Internet Explorer, and Opera.
Run on Any Cloud
Avoid cloud lock-in. Deploy virtual desktops on your choice of public cloud or in your datacenter. Choose from many options based on your geographical, technical, or regulatory needs—or use them all at the same time. Frame lets you scale around the world, on infrastructure from Amazon, Microsoft, Google, and other partners.
Leverage Any Storage
Integrate with industry leading cloud services. Xi Frame lets you use Dropbox, Box, Google Drive, or your own cloud storage as your hard drive. It's not just convenient, it's also blazingly fast. That's because apps on Xi Frame access cloud storage over massive 600 Mbps pipes—100x faster than the average upstream connection. Even when you modify a large file, changes are synced in seconds.
Versatile. Global. Enterprise-ready.
Easily create enterprise-grade virtual workspaces for your teams, customers, or partners. Seamlessly integrate with existing IT systems using our APIs, SDKs, and developer tools.
Easy to Use:
Leverage intuitive administrative interfaces and zero touch maintenance—you don't need a PhD to design and operate Xi Frame.
Proven at Global Scale:
Provision up to 10,000 users per account in under an hour. Spin up secure cloud workspaces in any AWS or Microsoft Azure region.
Elastic by Design:
Never overpay for unused capacity again. With Xi Frame, you only pay when you're actually consuming services. Ramp up at your own pace.
Developer Friendly:
Use your existing files, connect to IDaaS (like Azure AD or Okta), or extend your enterprise network to the cloud—Xi Frame has you covered.
Built for Security:
Get maximum security and zero server footprint. After each Xi Frame session the VM you used is destroyed, so there's no data to protect.
Enterprise-ready:
Leverage the only multicloud Windows workspace service running at a global scale, reaching users in more than 200 countries.
Connect Frame with Your Everyday Services
Frame integrates with dozens of services to let you access your existing files and identity services that you already use.
Qualified Products
Need help? Chat with an industry expert right now!
Please fill out the form below or call us at 866-981-2998.
Contact Us
Mailing Address:
WebScaleWorks.com
A division of Virtual Graffiti, Inc.
1225 Crescent Green, St. 115
Cary, NC 27518
Local: 949-328-2860
Toll Free: 866-981-2998
Our team is here to help you! We are available from Monday – Friday: 7am - 9PM PST and Saturday – Sunday: 9am - 6PM PST and attempt to respond to all inquiries within 1 business day.
Please Note: Technical support is provided by the manufacturer. If you have a product support related questions, please contact the manufacturer directly.