Nutanix Prism

simplify and streamline common workflows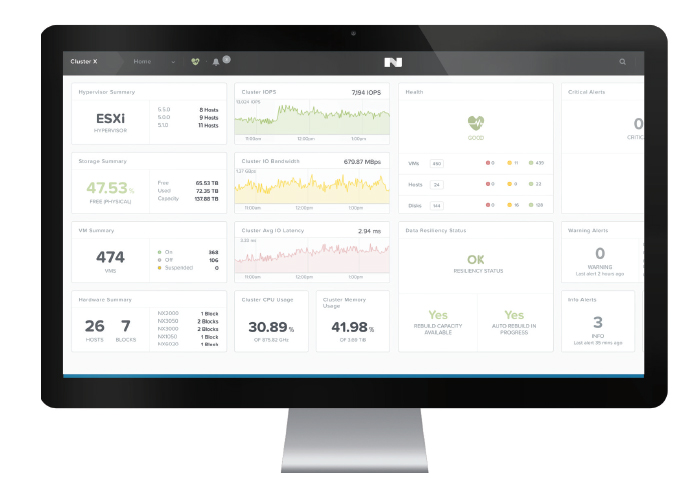 Overview:
Enterprise clouds require machine intelligence and automation to simplify complex operations from many clicks to a single click, and eventually from a single click to zero-touch management.
Nutanix Prism is an end-to-end consumer-grade management solution for virtualized datacenter environments that brings unprecedented simplicity by combining several aspects of administration and reporting. Powered by advanced machine learning technology, Prism can mine large volumes of system data to automate common tasks and generate actionable insights for optimizing virtualization, infrastructure management and everyday operations.
Prism has been designed ground-up for an uncluttered, yet rich experience and provides an intuitive user interface to simplify and streamline common datacenter workfl ows, eliminating the need to have disparate management solution s for different tasks.
Simple, centralized management powered by advanced data analytics
Nutanix Prism is an end-to-end management solution for virtualized datacenter environments that streamlines and automates common workflows, eliminating the need for multiple management solutions across datacenter operations.  Powered by advanced machine learning technology, Prism analyzes system data to generate actionable insights for optimizing virtualization and infrastructure management.
Consumer-grade Experience with One-click Simplicity

One-click Planning
Intelligent insights into capacity usage with precise optimization recommendations

One-click Performance
Early warning signs of performance issues in VMs
One-Click Infrastructure Management
Centralized infrastructure management all the way up to virtual machines

One-Click Operational Insights
Rich insights and proactive recommendations about day to day operations

Prioritizing the User Experience
Nutanix follows a design first philosophy that brings consumer grade design and web scale engineering together to create a user experience that delights customers. Learn how design principles are embedded in every step of our product cycle to develop a product that customers find truly useful and intuitive.
Key Components:
One-click Infrastructure Management
Prism manages the entire stack from the storage and compute infrastructure all the way up to virtual machines (VMs).
Cluster Management: Streamlined deployment, maintenance and scaling of hosts with a single click.
Virtual Network Management: Simplifi ed set-up and management of virtual networking for hosts and virtual machines.
VM Management: End-to-end VM lifecycle management, from creation and initial placement, to high availability and migration.
Storage Management: Intuitive VM-centric control of storage services.
Prism Self Service: Frictionless access to infrastructure resources.
Network Visualization: VM-centric operational view of the network.
One-click Operational Insights
Prism's advanced machine learning technology provides one-click insight for detailed infrastructure trending, analysis and optimization, simplifying routine operational tasks.
Prism Search: Integrated Google-like search experience to query and perform actions with a single click.
Customizable Operations Dashboard: Visually rich dashboards that give actionable summary of applications, virtual machines and infrastructure state at-a-glance.
Proactive Alert Analysis: Proactive analysis and grouping/isolation of information to display relevant and actionable alerts.
One-click Planning
Prism includes a powerful application and VM-centric capacity planning engine that is powered by Nutanix's patent-pending X-Fit technology.
Capacity Behavior Analytics: Predictive analysis of capacity usage and trends based on workload behavior enabling pay-as-you-grow scaling.
Capacity Optimization Advisor:Infrastructure optimization recommendations to improve efficiency and performance based on VM behavioral analysis.
Just In Time Forecast: Capacity expansion forecast to meet future workload growth.
One-click Performance Monitoring
Prism learns the real-time performance behavior of VMs and workloads, and detects anomalies automatically providing early warning signs.
Anomaly Detection: Predictive monitoring based on behavioral analysis instead of static thresholds detects performance issues before they impact workloads.
Bottleneck Detection: Guidance for correct VM resource allocation is provided based on behavioral analysis and machine learning.
Software Editions:
Prism is available in two editions – Prism Starter and Prism Pro. Prism Starter is included with every edition of Acropolis for single and multiple site management. Prism Pro is available as an add-on subscription.
FEATURES
STARTER
PRO
A comprehensive systems management solution for single and multi-site management of Nutanix clusters.
VM operations & systems management with advanced machine intelligence, operations & automation capabilities.
Cluster Management
Single Site Management (Prism Element)
Multi-site Management
VM Management
Storage Management
Multi-hypervisor Management
Network Visualization
Prism Self Service Management
One-click Centralized Upgrade
One-click Planning
Capacity Behavior Trends
Just in Time Forecast
VM Right Sizing
One-click Performance Monitoring
Alert Analysis
Bottleneck Detection
Anomaly Detection
One-click Operational Insights
Prism Advanced Search
Customizable Dashboard
Scheduled Reporting
One-click Infrastructure Management:
Hypervisor and VM management with a consumer-grade experience
Nutanix Prism gives administrators an easy way to manage virtual environments running on Acropolis. It simplifies and streamlines common workflows for hypervisor and virtual machine (VM) management, from VM creation and migration to virtual network setup and hypervisor upgrades. Rather than replicating the full set of features found in other virtualization solutions, virtualization management in Prism has been designed for an uncluttered, consumer-grade experience.
Cluster Management
Prism gives administrators the ability to deploy clusters for storage and virtualization within minutes, allowing them to quickly run applications.
Host Profiles Standardize configuration of hosts within a cluster based on user-provided information (e.g., auto-mount containers)
Virtual Networking Setup and configure layer-2 VLAN backed virtual networks spanning the cluster. Optionally, create a virtual network with managed IP for VM IP management
Non-disruptive Upgrades Upgrade the Acropolis Operating System, Hypervisors and firmware with a single click without any downtime and maintenance windows.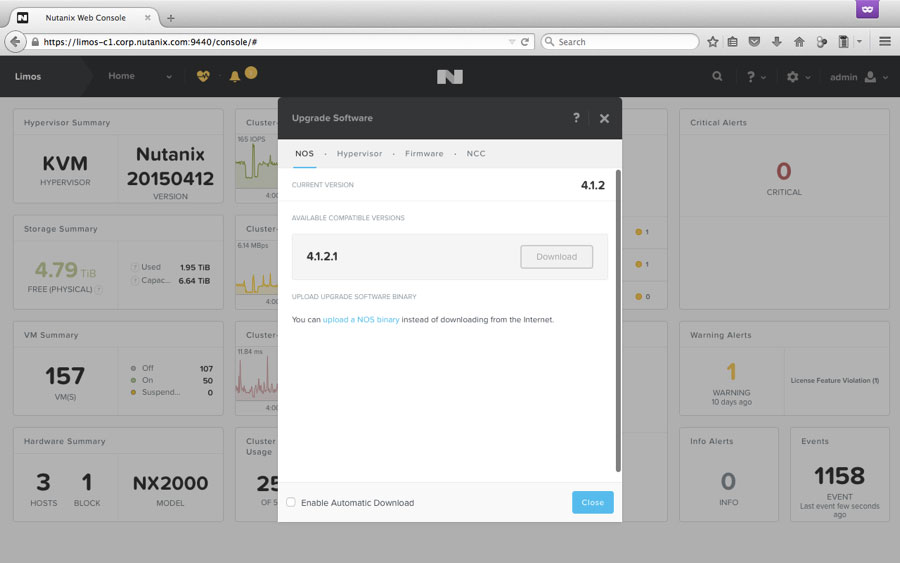 VM Management
Prism radically simplifies workflows through the entire VM lifecycle, from creation and initial placement, to IP network configuration, to protection and migration. Access is easy via graphical user interface (GUI), command-line interface (CLI) and REST API.
VM Operations: Create, delete, update, power, pause/resume virtual machines.
Remote Console: Access virtual machines via remote console without the need for agents or browser plug-ins by leveraging noVNC clients in modern browsers.
Resource Scheduling: Determine intelligent initial placement of virtual machines, and dynamically balance the load across the cluster for optimal performance.
Migration: Live migrate virtual machines across hosts, to either a host of choice or to one automatically selected by the system.
IP Management: Assign dynamic IP addresses to a virtual machine at the time of creation for the life of the virtual machine.
Snapshots and Clones: Rapidly create snapshots and clones of virtual machines.
Disaster Recovery: Recover applications quickly even in the event of a site disaster with remote replication.
Storage Management
Prism provides intuitive VM-centric workflows for all administrative tasks related to storage deployment, management and scaling from a single pane of glass. The intuitive HTML5 interface is easy to use on a broad range of devices.
Datastore Creation
Datastores created with Prism are automatically mounted on the hypervisor nodes and available immediately for use.
Granular Control
Easily set policies and controls for compression, deduplication and redundancy at VM granularity.
Backup and Disaster Recovery
Define failure domains for resilience, establish snapshot and replication schedules, and leverage integrated data protection workflows.
Non-disruptive Upgrades
Upgrade the Acropolis Operating System, Hypervisors and firmware with a single click without any downtime and maintenance windows.
Consolidated Visibility
Compute and storage statistics are viewed together for a complete picture of system performance.
Standards-based Authentication
Prism integrates with LDAP-based services for strong and flexible administrator authentication.
Prism Self Service
Prism empowers end users such as developers by enabling self-service access to infrastructure resources for a public cloud-like experience. The Prism Self-Service Portal provides secure access to one of the industry's most powerful cloud platforms, while isolating end user access from cluster management in Prism.
Self Service Management
End user access via Prism Self Service can be configured with a few clicks, providing an integrated consumer-grade experience.
End User Empowerment
End users can provision, monitor and manage infrastructure resources on demand, removing the need for administrators to be involved.
Standards-based Authentication
The Prism Self Service integrates with existing authentication systems such as Active Directory so end users can seamlessly log in with their corporate credentials.
Easy User Management
End users are grouped together in projects, making it easy to distribute compute, storage and network resources.
Complete Resource Control
Quotas limit end user consumption, and fine-grained permissions control user privileges.
Detailed Resource Analytics
A built-in accounting system provides analytics about resource consumption and charts infrastructure usage over time.
Streamlined Dev & Test
With a VM console and performance charts built into the browser, application development and debugging are right where you need them.

Network Visualization
Get a VM-centric operational view of the network and drastically reduce the mean time to restore from common network issues. A complete visual representation of how applications are connected to the underlying physical and virtual networks helps simplify monitoring, troubleshooting and remediation.
Network Topology
See the network topology of every node in the cluster, and drill down to a single VM to see what host it runs on, which physical network connection it is using, which switch port it is on, and what VLAN it is a part of.
Network Setup
View the relationship between the host NIC and the switch ports, including the switch port stats (provided LLDP and SNMP are enabled on the switch) for a complete picture of the network setup in the infrastructure.
Customized Views
Customize views based on what you are monitoring or troubleshooting using features such as filtering, grouping and selections of entities.
Configuration Troubleshooting
Network VLANs are assigned color markers in the network view, the VM and the switch port list. If the VM is not able to communicate, the color marker shows as missing in the switch port list, helping troubleshoot VLAN misconfiguration quickly.
One-click Operational Insights:
Actionable business intelligence about infrastructure performance
Powered by advanced machine learning technology with built-in heuristics and business intelligence, Prism mines large volumes of system data about day-to-day operations of the datacenter to generate actionable insights for optimizing infrastructure performance.
Customizable Operations Dashboard
Monitor data you care about the most through visually rich dashboards that provide a quick summary of application and infrastructure state. Be confident in actionable information that is backed by user tunable key performance indicators (KPIs) with anomaly detection.
At-a-glance View
Monitor various aspects of the infrastructure including virtual machines, storage, networking and cluster across different attributes such as performance, availability, health and optimization recommendations.
Comprehensive Metrics
Create widgets to monitor storage usage, performance latency, capacity runway, and more. Add as many widgets to the Prism home screen as desired, and customize to your needs.
System Troubleshooting
Reduce the mean time to restore from failures by quickly understanding system behavior and performing actions. Create widgets for KPIs, alerts, and SLAs for proactive monitoring.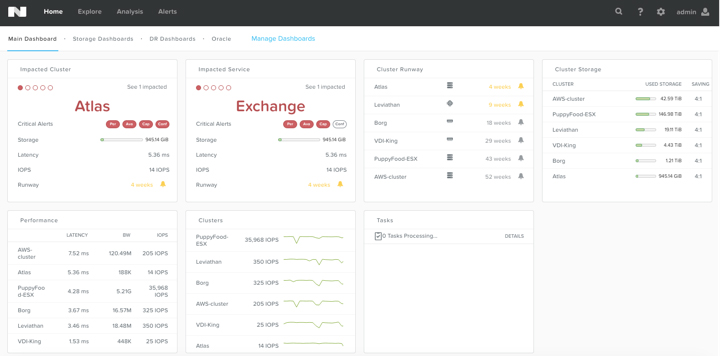 Instant Search
Prism Instant Search removes the learning curve involved in adopting new management tools through a search-first experience. Instead of navigating through dozens of complex wizards, centralized multi-site search provides instant access to information based on full-text search terms. Experience consumer-quality search and get actionable results.
Free Text Search
Type search terms in free text, and Prism will display accurate, contextual and actionable results instantaneously. For example, "Turn off my TestSQL VM" will show results related to the "TestSQL" virtual machine and provide an option to turn it off in one click.
Advanced Search Capabilities
Auto-complete, auto-correct, the ability to save search history and search shortcuts are all supported. Saved searches can help simplify actions performed on a frequent basis.
Centralized Multi-site Search
Search is performed across all entities within a Nutanix deployment – virtual machines, clusters, network settings, knowledge base articles, alerts – and results are displayed for easy action.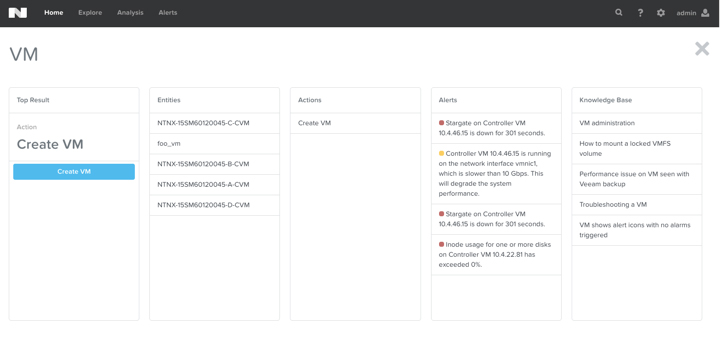 Scheduled Reporting
Get operations insights and send them to your stakeholders automatically. Effortlessly compose a rich and consumable report with the intelligence from X-FIT. Let your applications teams and management access valuable and actionable information of infrastructure and workloads.
Out of the Box Reports
Use existing out of the box reports or build custom reports to share KPIs easily within the organization.
Visibility into Performance Data
Allow application owners and other external stakeholders access to valuable performance data.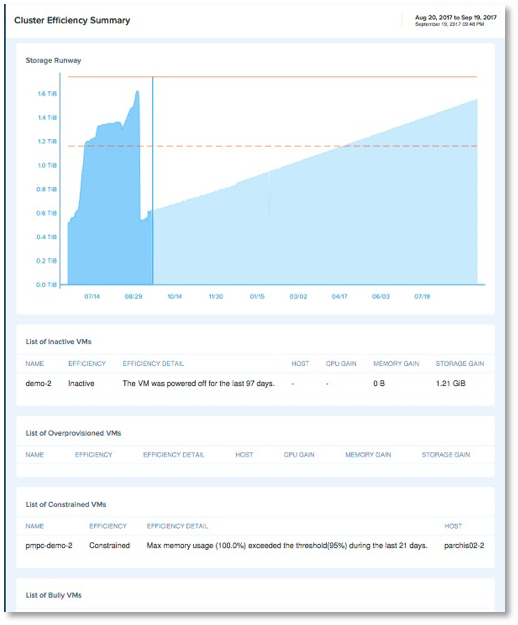 One-click Planning:
Advanced capacity usage analysis and recommendations
Prism delivers advanced capacity planning capabilities powered by patent pending X-FIT technology to optimize pay-as-you-grow capacity expansion. This technology runs multiple predictive algorithms to find the best fit and produces actionable recommendations to optimize usage of provisioned capacity with a single click.
Capacity Behavior Trends
Prism's predictive analysis engine forecasts the capacity needs of applications running on a Nutanix cluster, giving the IT team the ability to proactively plan for infrastructure needs. Prism continuously monitors usage of CPU, memory and storage across the cluster and accurately predicts when a cluster will run out of resources, known as a capacity runway.
Advanced Algorithms
Instead of using a single algorithm that may contain limitations such as STL, ARIMA or Theta, Prism uses X-FIT to run multiple algorithms, analyzing various models for the most accurate prediction.
Just-in-time Provisioning
Instant assessments help IT teams ensure business organizations never run out of capacity. Accurate predictive analysis enables you to plan infrastructure needs and optimize budget.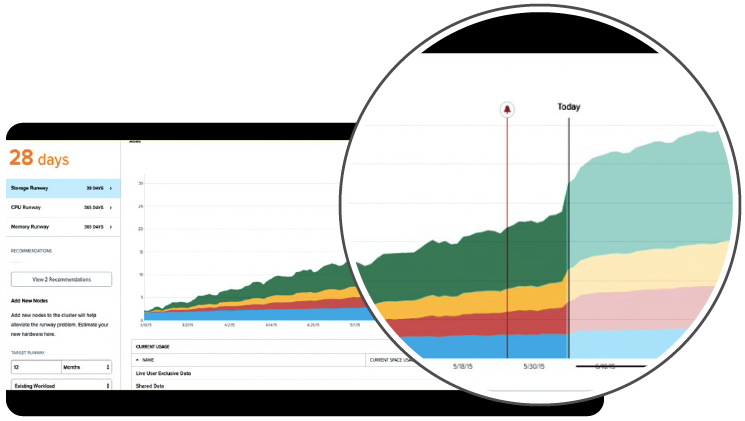 Capacity Optimization Advisor
Working closely with the Capacity Behavior Trends capability, the Capacity Optimization Advisor analyzes usage across all the applications and provides recommendations to improve capacity usage and increase runway.
Virtual Machine Analysis
The advisor detects idle VMs that can be removed to free up capacity, as well as overprovisioned VMs on which peak resource usage is exceeded so that you can reduce the capacity assigned to these virtual machines.
Hardware Analysis
If no additional optimizations can be performed, the advisor will recommend specific hardware models that can be added to the cluster to increase capacity and maintain a healthy runway.
Runway Planning
IT admins can specify a target runway and get recommendations for hardware models that should be added to increase the runway to the specified value. The advisor uses the Nutanix Sizer tool to ensure consistency.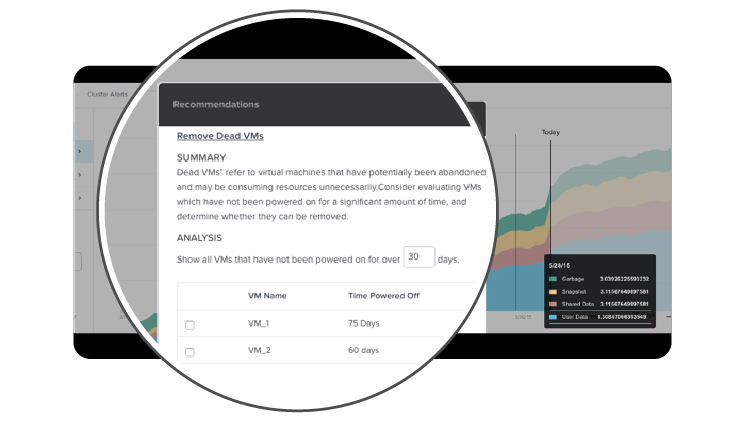 Just In Time Forecast
Powered by X-Fit, Prism's Just In Time Forecast capability precisely sizes for future workload growth based on past, current and future workload demands, then recommends a capacity expansion schedule based on when and what infrastructure will be needed.
Time-saving Modeling Options
Use predefined workload inputs for popular applications like VDI, SQL Server, Splunk, XenApp or VMs, or use a percentage to model capacity change in minutes instead of days.
Eliminate Guesswork
Accurate prediction of what is needed and when eliminates guesswork in capacity planning, saving time spent analyzing and minimizing risk of surprises.
Pay As You Grow
With accurate recommendations for capacity growth, there is no need to overprovision, so IT can stay tightly aligned with business growth.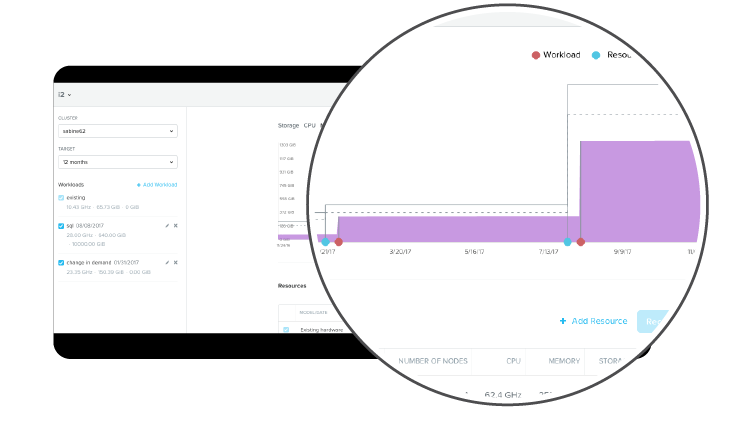 One-click Performance Monitoring:
Early warning signs of performance issues in VMs
Using X-FIT, the purpose-built machine learning engine, Prism learns the real-time performance behavior of VMs and workloads. Drawing upon this knowledge, Prism then detects anomalies automatically, and provides early warning signs for a potential performance impact to your workload.
Anomaly Detection
Predictive monitoring based on behavioral analysis instead of static thresholds detects performance issues before they impact workloads. This eliminates manual alarm creation, and lowers admin overhead by helping focus on what is important instead of the huge alert storm.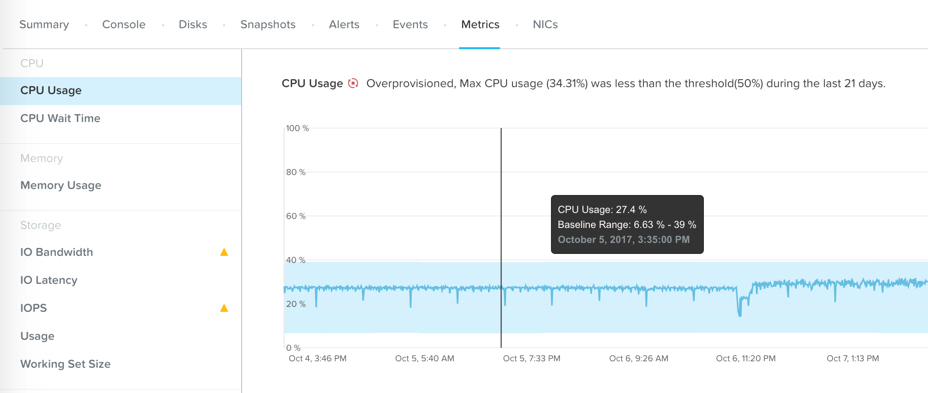 Bottleneck Detection
Improve VM performance by detecting issues due to non optimized resource consumption. Guidance for correct VM resource allocation is provided based on behavioral analysis and machine learning.