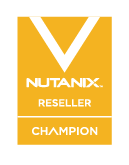 The Latest Nutanix News

Product and Solution Information, Press Releases, Announcements
Top 10 Reasons to Run Epic Infrastructure on Nutanix
Posted: Fri Dec 18, 2020 07:26:11 AM

Why are Epic clients consistently selecting Nutanix for their Epic infrastructure?
Before I answer this question, let me describe a common scenario I see in Epic clients on a regular basis. This scenario isn't new. In fact, it's been nearly identical over the past 20 years that I've been working directly with Epic clients as they achieve tremendous business and clinical outcomes.
Healthcare IT organizations desperately work to keep up with data and application growth while balancing budgets and human resource pressures. Epic clients specifically require "comfort," performance, cost, and availability—all important attributes, of course. Interestingly, innovation rarely makes this requirement list, but without innovation, legacy solutions tend to perpetuate datacenter complexity and high costs.
Innovation and comfort tend to have a "one or the other, but not both", reputation in the Epic world. However, it is necessary to introduce new technology that can achieve both in the datacenter. Epic's Technical Support team has been successful in injecting new technology into the stack. They've helped Epic clients transition from direct-attached storage (DAS) to storage area networks (SANs), from monolithic integrated cache disk arrays (ICDA) to all-flash arrays (AFA), from AIX to Linux, and much more.
Now we are at another great innovation inflection point. The IT world is shedding legacy 3-tier architectures and moving to modern cloud-native hyperconverged infrastructure (HCI).
So, how do we help our mutual Epic and Nutanix clients innovate safely? Innovation is in our DNA. Nutanix understands the life-critical nature of Epic's technology and we are committed to making our healthcare clients successful. Nutanix has been working with Epic and our mutual clients since 2015 with decades of application runtime under our belt. Our sizing methodology is Epic-approved and we have a dedicated Epic technical support team.
And, with Nutanix, the ability to run any application at any scale is unbeatable. In fact, many of our Epic clients begin with non-production and disaster recovery scenarios, then quickly expand into critical clinical and non-clinical workloads. In a nutshell, Nutanix builds confidence and comfort for Epic clients through obsessive customer service and unparalleled technology.
So why are Epic-based healthcare organizations selecting Nutanix?
Nutanix provides an overwhelming value that compels Epic customers to lean-in to innovation and away from concerns.