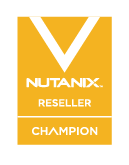 The Latest Nutanix News

Product and Solution Information, Press Releases, Announcements
Nutanix Teams Up with Caesars Entertainment and UNLV to Power Black Fire Innovation Hub
Posted: Wed Feb 19, 2020 09:10:56 AM

The Innovative Technology Hub is a Space to Test and Showcase New Gaming and Hospitality Concepts
San Jose, Calif. — February 19, 2020 – Nutanix (NASDAQ: NTNX), a leader in enterprise cloud computing, announced today that it has teamed up with Caesars Entertainment and UNLV to power "Black Fire Innovation," a hub where new gaming and hospitality concepts will be created and tested, to accelerate technology advancement in the gaming and entertainment industry.
"Black Fire will serve as a hub for technology innovation in our industry, and for that, we need a platform for accelerating time to value and delivering the performance, availability, and simplified management that's critical to our success," said Salil Kulkarni, EVP & Interim Chief Information Officer of Caesars Entertainment. "As a Nutanix customer, we knew the benefits their software could bring to this environment and decided to team up with them to power Black Fire."
Black Fire Innovation is a 43,000 square-foot space that includes elements of mock hotel rooms, a casino floor and sportsbook, an esports studio with arena-style seating and virtual reality facilities. This multipurpose space will allow UNLV, Caesars and partners to develop and test new concepts using a mock integrated resort environment. Black Fire Innovation brings industry leaders and disruptors together in one space to advance current trends in hospitality and gaming technology to propel the industry forward.
The Nutanix solution at Black Fire delivers the power and flexibility needed to test disparate technology innovations. The space is powered by Nutanix HCI software with AHV virtualization and Xi IoT for real-time analysis of IoT use cases. Additionally, the simplicity of the interface and ease of deployment make Nutanix HCI especially suitable for an environment where many professionals will be testing their technology in a real-world environment.
"Black Fire Innovation brings together UNLV's innovation with Caesars' market leadership to create space where the technology community - from startups to students - can work together to move the industry forward," said Dave Gwyn, SVP, U.S. West, East, Public Sector and Latin America at Nutanix. "Nutanix removes the complexity of the underlying technology infrastructure so the team and partners at Black Fire can focus on innovation."
Research within the Black Fire Innovation space will focus on emerging technologies, which may include blockchain, artificial intelligence and virtual reality with interdisciplinary collaborations across areas such as architecture, psychology and fine arts.