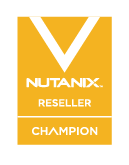 The Latest Nutanix News

Product and Solution Information, Press Releases, Announcements
Nutanix Boosts Operational Efficiency for College of Business, City University of Hong Kong
Posted: Thu Dec 07, 2017 01:07:06 PM

Nutanix Enterprise Cloud Enables Better IT Efficiency, Scalability and Removes Administrative Waste
HONG KONG – 7 December, 2017 – Nutanix (NASDAQ: NTNX), a leader in enterprise cloud computing, today announced that City University of Hong Kong's College of Business has boosted operational efficiency since July 2016, as a result of the deployment of the Nutanix Enterprise Cloud Platform.
Implementing the Nutanix solution has resulted in greater operational effectiveness of the IT environment at the university. Virtual desktop log-on times have improved by more than 50 percent with 20 percent faster desktop provisioning. Playing HD quality YouTube videos as part of the lectures and tutorials has used 30 percent less CPU power on its Nutanix platform than the previous legacy infrastructure.
Providing a superior learning experience is imperative for the City University of Hong Kong's College of Business. In order to cater to an expanding student base, City University needed a more agile IT infrastructure to support the setup of two more teaching laboratories in addition to their existing four laboratories. They decided on the Nutanix Enterprise Cloud Platform because of its simplicity when running projects in a virtual desktop infrastructure (VDI). The ability to scale up easily while allowing detailed performance analytics, fast deployment time and high read-write performance were critical, as these are key factors required in an educational institution where hundreds of students are accessing information at any given time.
"Nutanix was an ideal solution because it addressed all the challenges unique to an educational institution while cutting down our IT costs and boosting efficiency. Previously, we had a legacy multi-tier VDI server infrastructure comprising solutions from multiple vendors. This included a total of 17 rack units of blade servers, storage systems and fibre-channel SAN switches. All that has been whittled down to just two rack units of Nutanix that handle computing and storage, thus freeing up over 70 percent of the rack space we previously used. One year in, we've seen very positive results which have benefitted both our staff and students," said Mr. Adams CHAN, Senior Manager, City University Hong Kong.
With the Nutanix solution, the system update took merely three hours in a fully automated and unattended process – a quarter of the time it took previously to update the system with the legacy infrastructure. This meant that the IT administrators have time to focus on more value-added tasks.
"We are happy that City University is now enjoying faster performance, higher reliability and reduced IT management overhead by using the Nutanix Enterprise Cloud. Nutanix has extensive experience providing tertiary institutions with solutions that cater to their unique requirements, and we are now looking to expand our collaboration with City University as they continue to enhance their IT infrastructure," said Matt Young, SVP and Head of APJ at Nutanix.