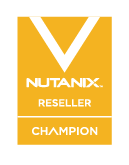 The Latest Nutanix News

Product and Solution Information, Press Releases, Announcements
Netmagic Partners with Nutanix to Offer Managed Enterprise Cloud Services
Posted: Mon Jun 19, 2017 08:59:20 AM

Mumbai, India – June 19, 2017 – Nutanix (NASDAQ: NTNX), a leader in enterprise cloud computing, today announced its partnership with Netmagic, a subsidiary of NTT Communications and a leading managed service provider in India. This partnership will enable Netmagic to offer Private Cloud Services built upon the Nutanix Enterprise Cloud Platform, to customers who either run their own datacenters or using Netmagic's dedicated datacenters based in India. Along with other recent partnerships, Nuatnix has extended its reach exponentially across India, and is now placed to support the extensive digital transformation currently underway in the country.
The Nutanix Enterprise Cloud Platform goes beyond hyper-converged infrastructure and can offer lower total cost of ownership (TCO), near limitless scalability, faster time to value and small footprint. It allows customers to deploy applications faster and scale rapidly as they grow. In addition, this partnership will enhance the security, scalability, reliability and flexibility for enterprises and provide them a tailor-made solution without compromising on the control of their IT infrastructure. The entire private hosted cloud service by Netmagic will be built on the Nutanix Enterprise Cloud Platform.
Netmagic provides a well-structured approach to private cloud design and development. It takes into consideration the immediate as well as future business needs to scale-up through hybrid IT or virtual private cloud environments. Once on the Nutanix Enterprise Platform, Netmagic will be able to deliver higher return on investment (ROI) within the existing infrastructure.
"Netmagic's deep understanding of the local market, supreme reach and strong client base combined with our technological backbone offers a robust and secure Private Cloud Solution to enterprises," Sunil Mahale, VP and MD of Nutanix India commented. "We are confident that this partnership will enable both companies to continue to grow within the FSI and ecommerce verticals in India, and to expand into more untapped markets."
"We are pleased to partner with Nutanix to further leverage our infrastructure and domain expertise with their leading Enterprise Cloud Platform. This business alliance enables us with our continued efforts in maintaining our delivery excellence and value proposition," added Sharad Sanghi, Managing Director and CEO at Netmagic (An NTT Communications Company). "This enhanced service offering consolidates our leadership position in the Cloud industry."